After Christmas Eve, it is time to be served. To rest and enjoy being with our loved ones. We don't want to stay at home, we don't want to complicate things. We want others to take care of everything for a day.
Let us surprise you with a great Christmas meal. You deserve it. Merry Christmas.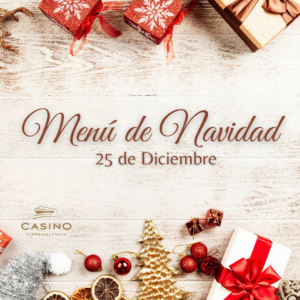 Christmas Menu
(Sunday, 25 December 2022)
Individual Starters
Tasting of crab cream
Prawn salpicon, marinated salmon and mussels in brine seasoned with our Japanese vinaigrette
Main course
Moulded leg of lamb and caramelised pineapple taco with citrus and aromatic herbs sauce.
And for dessert
Crunchy hazelnut and white chocolate mousse with coffee and Amaretto sauce
Coffee and infusions
Glass of Cava and Christmas Sweets
The Wine Cellar:
Mineral water, soft drinks and beer
White wine, Juan de Juanes, D.O. Valencia
Red wine, Madame Bobalú, D.O. Valencia
Price: 52,95 € (tax incl.)
COMPRA AQUÍ